Laos Adventure Tours: Viengtiane - Vang Vieng - Xieng Khoang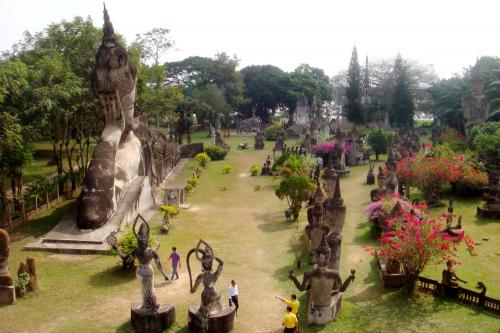 7 Days/ 6 Nights
From: Before USD 926 - Now USD 812
Depart from: Vientiane
Tour style: Laos Adventure Tours
Support 24/7: (+84) 947.522.266
Laos is one of Asia's greatest treasures. The mighty Mekong in the west and the Truong Son range Mountains in the east, offer natural borders to Thailand and Vietnam respectively, while Laos also shares borders with China in the north, Myanmar in the northwest and Cambodia in the south. This seven day tour will allow you to experience the stunning natural wonders, rich heritage and friendly people of Laos. You will be able to learn about places like Vientiane, with its French colonial buildings, ancient temples and colorful markets. You'll also discover Luang Prabang, a former royal capital and now a World Heritage Site listed by UNESCO, as well as the city of Xieng Khoang. There is also so much more, and you will be thrilled that you came to share the delights of Laos..
Day 1: Arrive in Vientiane (D)
Day 2: Vientiane – Vang Vieng (B/L)
Day 3: Vang Vieng –Xieng Khoang (B/L)
Day 4: Xieng Khoang - Luang Prabang (B/L)
Day 5: Luang Prabang - Pak Ou Cave (B/L)
Day 6: Luang Prabang – Kuang Si Waterfall (B/L)
Day 7: Luang Prabang – Departure (B)
Day 1: Arrive in Vientiane (D)
Upon arrival in Vientiane, you will be transferred to your hotel. In the afternoon, you will have a tour of Vientiane which, although the capital city, still has the feel of a small provincial town. The wide boulevards are almost devoid of traffic, and with its many temples, the city retains the feel of another age. Your tour will include visits to the major temples of Vat Sisaket, Vat Phrakeo and the impressive That Luang Stupa (the country's most important monument). You will also see the Arc de Triomphe, the National Museum and the main market. In the evening, following a welcome dinner, you can enjoy an evening stroll along the banks of the Mekong River before an overnight stay in Vientiane.
After breakfast, you will visit the Morning Market before leaving Vientiane for Vang Vieng, which takes around 3 hours to reach by car. Vang Vieng was once a key military airfield during the Indochina wars and its central feature is the long abandoned runway along the eastern side of town. On the west side, a small river separates the town from the nearby caves & mountains, which can easily be visited from town. En route, you will enjoy the included lunch at a local restaurant. Then you will have free time before and overnight stay in Vang Vieng.
The drive from Vang Vieng to Xieng Khoang is stunning and you will reach your destination at lunch time. After you have checked into your hotel, there will be a tour to the mysterious Plain of Jars. The Plain of Jars is an extensive area around Phonsavan, surrounded by mountains, and where massive stone urns of mysterious origin are scattered about in a least a dozen major groupings. Site , Thoung Hai Hin (or "Stone Jar Plain) is 15 km southwest of Phonsavan, and the largest of the sites, featuring 250 jars, mostl weighing from 600kg to one ton each (but, the biggest of them weighing as much as six tons!). You will continue to visit some nearby hill tribe villages to experience their fascinating culture and colorful history before heading back to the hotel. You will stay overnight in Xieng Khoang.
You will leave Xieng Khoang and drive to Luang Prabang, which is the old capital of the Lane Xang Kingdom and which is home to more than 30 gilded Buddhist temples, which results in a town rich in atmosphere and history.
In the afternoon, there will be a tour to discover the World Heritage Site, with visits to Wat Visoun (the 16th Century temple which served as a small museum for religious artifacts), Wat Aham (the early 19th Century temple, whose two guardian figures at the foot of the steps represent two characters from the Ramayana – Hanuman, the Monkey God and the fierce Yaksa), Wat Xiengthong (the 16th Century temple which, more than any temples in Luang Prabang, epitomizes all the elegance and grace of its architecture) and Phousi Hill (whose 328 steps lead to the summit of Phousi Hill, which dominates the sky-line of Luang Prabang). This will give you the finest panoramic view of the whole of Luang Prabang before an overnight stay.
Day 5: Luang Prabang - Pak Ou Cave (B/L)
An optional early start will give you the fantastic opportunity to participate in the daily morning rituals of saffron-clad monks collecting offerings of Alms (often in the form of sticky rice) from the faithful residents. This tradition is very unique to Laos, it being the only Buddhist nation still preserving the ritual.
Following breakfast, you will depart to the boat landing for an excursion upstream on the Mekong to visit Pak Ou Cave, which is in the side of a lime stone cliff and opposite the mouths of the Mekong and Ou rivers. The sanctuaries at Pak Ou consist of two large caves, both repositories for thousands of Buddha images, which range from mere centimeters to two meters in height.
En route, Lao typical villages are barely visible behind a screen of foliage, yet you will see slender canoes bobbing by the shore, as well as bamboo poles and floats marking the location of nets and fish traps. Your first stop will be at Ban Muangkeo, where traditional rice whisky (called "Laoh-Khao") is distilled, and you are welcome to taste it and also take some away! Lunch will be at a riverside restaurant. You will drive back to Luang Prabang in the late afternoon and continue by car to the outskirts of town to visit Ban Xangkhong, a well-known village for its wood paper making and also Lao silk weavings with natural dyes. You will stay overnight in Luang Prabang.
Day 6: Luang Prabang – Kuang Si Waterfall (B/L)
Today you will take a drive 30 km south to visit Kuangsi Waterfall which, though not very high, is spectacular and beautiful with its green surroundings in a preserved national park. En route, you will stop to visit a fresh produce market, Talad Phosy, and also visit Ban Na Oune, a small village of the Hmong hill tribe, the best known minority group in Laos. Just before arriving at Kuangsi Waterfall, you will visit a village of the Khmu minority group, Ban Tha Pane, followed by a picnic lunch at the shady park near the waterfall. There will be plenty of time for relaxing and a swim in the cool water, before you head back to Luang Prabang in the late afternoon. The rest of the day will be spent visiting various crafts shops, silver smiths and the Hmong market, where the embroidery works of Hmong women are on display. You will stay overnight in Luang Prabang.
Day 7: Departure (B)
There are no activities planned for today so you are free to explore on your own until transfer to the airport for your onward flight.
The hotel may be changed up to its availability. It will be confirmed after getting your deposit/payment. List of hotels is recommended by Vietpower Travel. Please feel free to advise hotels you prefer in each category or combine hotels category at your wish (tour price will be changed accordingly)
Validity until 30th of September 2014

Price per pax (adult) in USA Dollars
(Seasonal prices apply and will be confirmed when booking. All rates are quoted in USD/person)
Inclusions:
All private transfers and transportation

Accommodation shared in Double/twin room with daily breakfast

Meals as stated in the itinerary (B: Breakfast ; L: Lunch ; D: Dinner)

All sightseeing tickets

Experience English speaking guide

Tissues and water on coach.

Services charges and government tax.
Exclusions
International flights & departure taxes

Personal expenses, tips and gratuities

Travel insurance

Beverage

Peak season or Public holidays surcharge if any

Compulsory Gala dinner on X-Mas or New Year if any

Other services not mentioned above.
What to Bring:
Passport, change of clothes, su-glasses & hat, sun-block, insect repellent, flashlights, good shoes, personal first aid kit & medicines. If you feel the need then sleeping bags, cable lock for your bags is recommended.
Notes:
As indicated: A/C= Air-conditioning, O/N= Overnight, B=Breakfast, L=Lunch, D=Dinner

Itinerary is subject to change depending on flights, road condition and room availability

Rates are subjected to changed without prior notice.

Hotel: twin/double shared room. Upgrade is available on request. Check in: 14:00, check out: 12:00 noon. Early check in if it is subject to availability.

SS: single Supplement. The extra charge for person would like to have a single room.

Booking Terms & Conditions: Tour itinerary and tour prices are subject to change without notice.

Surcharge 3% if pay by credit card or 2% on traveler cheque.